Happy Friday the 13th! Here are thirteen YA books I want to read that were published this month.
1. A Thousand Beginnings and Endings edited 
by

 Ellen Oh and Elsie Chapman
Synopsis: Star-crossed lovers, meddling immortals, feigned identities, battles of wits, and dire warnings. These are the stuff of fairy tale, myth, and folklore that have drawn us in for centuries. 
Fifteen bestselling and acclaimed authors reimagine the folklore and mythology of East and South Asia in short stories that are by turns enchanting, heartbreaking, romantic, and passionate. 
Compiled by We Need Diverse Books' Ellen Oh and Elsie Chapman, the authors included in this exquisite collection are: Renee Ahdieh, Sona Charaipotra, Preeti Chhibber, Roshani Chokshi, Aliette de Bodard, Melissa de la Cruz, Julie Kagawa, Rahul Kanakia, Lori M. Lee, E. C. Myers, Cindy Pon, Aisha Saeed, Shveta Thakrar, and Alyssa Wong. 
A mountain loses her heart. Two sisters transform into birds to escape captivity. A young man learns the true meaning of sacrifice. A young woman takes up her mother's mantle and leads the dead to their final resting place. From fantasy to science fiction to contemporary, from romance to tales of revenge, these stories will beguile readers from start to finish. For fans of Neil Gaiman's Unnatural Creatures and Ameriie's New York Times–bestselling Because You Love to Hate Me.
I can't believe I haven't heard Aentee not rave about this yet! It's an anthology about Asian culture, in YA pop-culture. I can't wait to hear her thoughts.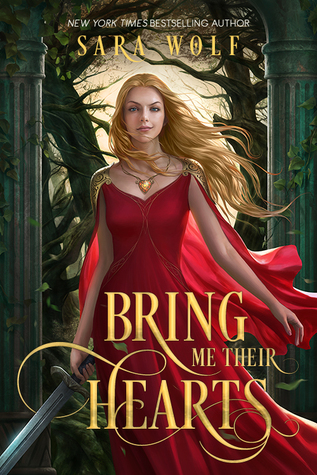 Synopsis: Zera is a Heartless – the immortal, unageing soldier of a witch. Bound to the witch Nightsinger ever since she saved her from the bandits who murdered her family, Zera longs for freedom from the woods they hide in. With her heart in a jar under Nightsinger's control, she serves the witch unquestioningly.
Until Nightsinger asks Zera for a Prince's heart in exchange for her own, with one addendum; if she's discovered infiltrating the court, Nightsinger will destroy her heart rather than see her tortured by the witch-hating nobles.
Crown Prince Lucien d'Malvane hates the royal court as much as it loves him – every tutor too afraid to correct him and every girl jockeying for a place at his darkly handsome side. No one can challenge him – until the arrival of Lady Zera. She's inelegant, smart-mouthed, carefree, and out for his blood. The Prince's honour has him quickly aiming for her throat.
So begins a game of cat and mouse between a girl with nothing to lose and a boy who has it all.
Winner takes the loser's heart.
Literally.
This seems like a dark fantasy that I can lose myself to.
Synopsis: Next-door neighbours and ex-best friends Hannah and Emory haven't spoken in months. Not since the fight—the one where they said things they couldn't take back.
Now, Emory is fine-tuning her UCLA performing arts application and trying to make the most of the months she has left with her boyfriend, Luke, before they head off to separate colleges. Meanwhile, Hannah's strong faith is shaken when her family's financial problems come to light, and she finds herself turning to unexpected places—and people—for answers to the difficult questions she's suddenly facing.
No matter how much Hannah and Emory desperately want to bridge the thirty-six steps between their bedroom windows, they can't. Not anymore.
Until their paths cross unexpectedly when, one night, Hannah finds Luke doubled over in his car outside her house. In the aftermath of the accident, all three struggle to understand what happened in their own ways. But when a devastating secret about Hannah and Emory's argument ultimately comes to light, they must all reexamine the things they hold true.
In alternating chapters, a sceptic and a believer piece together the story of their complex relationship and the boy caught somewhere in the middle. New York Times best-selling author Tamara Ireland Stone deftly crafts a moving portrait of faith, love, and friendship
To be candid, this barely made it on the list (I needed a thirteenth book for this book meme). I didn't love TIS' Every Last Word. 
4. Fat Girl on a Plane 
by
Kelly deVos
Synopsis: Don't miss this unforgettable debut novel, told in two timelines, about smart fashion, pursuing your dreams, and loving yourself!
FAT.
High school senior Cookie Vonn's post-graduation dreams include getting out of Phoenix, attending Parsons and becoming the next great fashion designer. But in the world of fashion, being fat is a cardinal sin. It doesn't help that she's constantly compared to her supermodel mother—and named after a dessert.
Thanks to her job at a fashion blog, Cookie scores a trip to New York to pitch her portfolio and appeal for a scholarship, but her plans are put on standby when she's declared too fat to fly. Forced to turn to her BFF for cash, Cookie buys a second seat on the plane. She arrives in the city to find that she's been replaced by the boss's daughter, a girl who's everything she's not—ultrathin and superrich. Bowing to society's pressure, she vows to lose weight, get out of the friend zone with her crush and put her life on track.
SKINNY.
Cookie expected sunshine and rainbows, but nothing about her new life is turning out like she planned. When the fashion designer of the moment offers her what she's always wanted—an opportunity to live and study in New York—she finds herself in a world full of people more interested in putting women down than dressing them up. Her designs make waves, but her real dream of creating great clothes for people of all sizes seems to grow more distant by the day.
Will she realise that she's always had the power to make her own dreams come true? 
I love the sound of this title, but not so much the "finding yourself through fashion" plot.
Synopsis: Could she be everything you aren't, but somehow―still be you?
It's the year 2015, and Sonnet McKay is the daughter of a globe-trotting diplomat, home for the summer from her exotic life. Everything would be perfect if not for her stunning sister, whose bright star has left her in the shadows. In 1895, Emma Sweetwine was trapped in a Victorian mansion, dreaming of wings to fly her far from her mother, who gives her love to her sons, leaving nothing for her daughter. Fate puts them in the same house at the same moment, 120 years apart, and the identical fifteen-year-olds are switched in time. In their new worlds, Sonnet falls in love with a boy, Emma falls in love with a life, and astonishing family secrets are revealed. Torn, both girls want to still go home— but can either one give up what they now have?
But Not Forever is an enchanting story of love and longing, and the heart's ultimate quest to find where it belongs.
This is such a unique storyline, I had to include this on my list!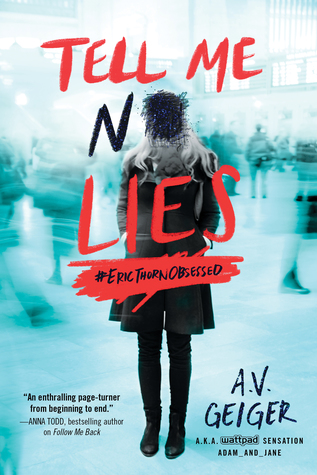 Synopsis: Love. Obsession. Jealousy. Murder.
No one knows what happened to pop icon Eric Thorn. His Twitter account? Frozen. His cell phone? Cracked and bloody, buried in the snow.
Agoraphobic fangirl Tessa Hart knows the truth, but she's finally left her #EricThornObsessed days behind. She has no intention of ever touching her Twitter app again. But Snapchat… That's safer, right?
After months of living under the radar, Tessa emerges from hiding, forced to face the deadly consequences of her past. But in the interrogation room, answers only lead to more questions in the pulse-pounding conclusion to the Follow Me Back duology. 
I AM SO EXCITED TO GET MY HANDS ON THIS BOOK!!! I loved the first instalment. Read my review here. 
Synopsis: There's no hiding on a cruise ship – not even from yourself.
Natalie's parents are taking her and her three best friends on a cruise for her seventeenth birthday. A sail-a-bration, they call it. But it's only been a few short months since Natalie's boyfriend died in a tragic accident, and she wants to be anywhere but here.
Then she meets a guy on the first night and sparks fly. After a moonlit conversation on a secluded deck of the ship, Natalie pops down to her cabin to get her swimsuit so they can go for a dip. But when she returns, he's gone. Something he said makes her think he might have . . . jumped? No, he couldn't have.
But why do her friends think she's crazy for wanting to make sure he's okay? Also, why do they seem to be hiding something from her? And how can she find him when she doesn't even know his name? Most importantly, why is the captain on the intercom announcing the urgent need for a headcount? 
2018 has been the Mystery Appreciation Year for me. Thanks to my mum, I am in love with murder mysteries. I want to show my love in some YA novels too. 
Synopsis: A heart to protect. A debt to repay. A game to win.
After being swept up in the magical world of Caraval, Donatella Dragna has finally escaped her father and saved her sister Scarlett from a disastrous arranged marriage. The girls should be celebrating, but Tella isn't yet free. She made a desperate bargain with a mysterious criminal, and what Tella owes him no one has ever been able to deliver: Caraval Master Legend's true name.
The only chance of uncovering Legend's identity is to win Caraval, so Tella throws herself into the legendary competition once more—and into the path of the murderous heir to the throne, a doomed love story, and a web of secrets…including her sister's. Caraval has always demanded bravery, cunning, and sacrifice. But now the game is asking for more. If Tella can't fulfil her bargain and deliver Legend's name, she'll lose everything she cares about—maybe even her life. But if she wins, Legend and Caraval will be destroyed forever.
Welcome, welcome to Caraval…the games have only just begun.
I absolutely adored the first instalment, which you should definitely read my thoughts here. It's the world that pulls me in– not the characters, for once. I can't wait to escape again!
Synopsis: Monday Charles is missing, and only Claudia seems to notice. Claudia and Monday have always been inseparable—more sisters than friends. So when Monday doesn't turn up for the first day of school, Claudia's worried. When she doesn't show for the second day or second week, Claudia knows that something is wrong. Monday wouldn't just leave her to endure tests and bullies alone. Not after last year's rumours and not with her grades on the line. Now Claudia needs her best—and only—friend more than ever. But Monday's mother refuses to give Claudia a straight answer, and Monday's sister April is even less help.
As Claudia digs deeper into her friend's disappearance, she discovers that no one seems to remember the last time they saw Monday. How can a teenage girl just vanish without anyone noticing that she's gone?
This is another mystery that has peaked my newfound interest.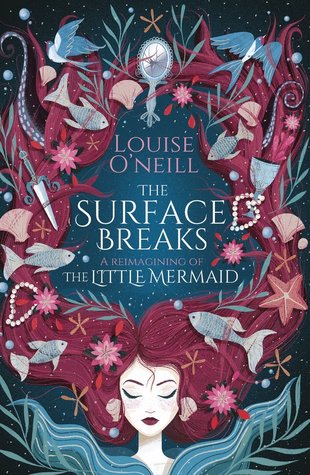 Synopsis: Deep beneath the sea, off the cold Irish coast, Gaia is a young mermaid who dreams of freedom from her controlling father. On her first swim to the surface, she is drawn towards a human boy. She longs to join his carefree world, but how much will she have to sacrifice? What will it take for the little mermaid to find her voice? Hans Christian Andersen's original fairy tale is reimagined through a searing feminist lens, with the stunning, scalpel-sharp writing and world-building that has won Louise her legions of devoted fans. A book with the darkest of undercurrents, full of rage and rallying cries: storytelling at its most spellbinding.
I am keen for a new YA retelling! ESPECIALLY for the Little Mermaid <3. The cover is to die for.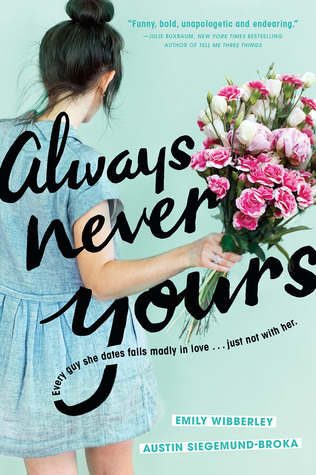 Synopsis: Megan Harper is the girl before. All her exes find their one true love right after dating her. It's not a curse or anything, it's just the way things are, and Megan refuses to waste time feeling sorry for herself. Instead, she focuses on pursuing her next fling, directing theatre, and fulfilling her dream school's acting requirement in the smallest role possible.
But her plans quickly crumble when she's cast as none other than Juliet–yes, that Juliet–in her high school's production. It's a nightmare. No–a disaster. Megan's not an actress, and she's certainly not a Juliet. Then she meets Owen Okita, an aspiring playwright who agrees to help Megan catch the eye of a sexy stagehand in exchange for help writing his new script.
Between rehearsals and contending with her divided family, Megan begins to notice Owen–thoughtful, unconventional, and utterly unlike her exes, and wonders: shouldn't a girl get to play the lead in her own love story? 
This quirkiness reminds me of Jenny Han's To All The Boys I've Loved Before. I've listed quite a few dark reads, so here's a bright and fluffy read to counteract this mix. 
Synopsis: Gabe and Elyse have never met. But they both have something to hide.
Quiet, shy Elyse can't believe it when she's cast as the lead in her Portland High School's production of Romeo and Juliet. Her best friend, Brynn, is usually the star, and Elyse isn't sure she's up to the task. But when someone at rehearsals starts to catch her eye–someone she knows she absolutely shouldn't be with–she can't help but be pulled into the spotlight.
Austin native Gabe is contemplating the unthinkable–breaking up with Sasha, his headstrong, popular girlfriend. She's not going to let him slip through her fingers, though, and when rumours start to circulate around the school, he knows she has the power to change his life forever.
Gabe and Elyse both make the mistake of falling for the wrong person, and falling hard. Told in parallel narratives, this twisty, shocking story shows how one bad choice can lead to a spiral of unforeseen consequences that not everyone will survive. 
I LOVE the hook of this book.
Synopsis: In this contemporary YA, a teenager's favourite literary heroes woo her in real life.
The first of two books in an intended paperback original series about a girl whose classic literary crushes manifest in real life. Merrilee Campbell, 16, thinks boys are better in books, chivalry is dead, and there'd be nothing more romantic than having just one guy woo her like the heroes in classic stories. She's about to get the chance to test these daydreams when she, her best friend, Eliza, and her younger sister, Rory, transfer into Reginald R. Hero High, where all their fantasies come true—often with surprising consequences.
My younger self would have ADORED THIS. WORSHIPPED THIS BOOK. I owe it to her to read this.
What's your favourite read this July? Comment below to let me know!