A Court of Thorns and Roses (A Court of Thorns and Roses #1) by Sarah J. Maas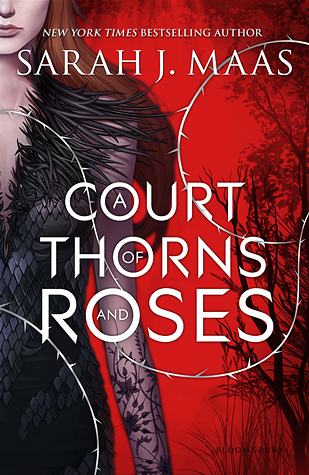 3.75/5 stars
How can I love a book by SJM dearly; but LOATHE ToG sooooo much?????



Seriously– all you have to do is check out any of the 4 reviews I've made for the ToG series, and you'll get a hint on how much I hate the series.
I gave this book a chance bc the sequel beat Lady Midnight, and I was pissed. 
I'm gonna say now; if the sequel is anything like the initial instalment, I still think it isn't greater than LM. For sure.
I'm almost 100000% sure that this book was FanFiction (pls no comments saying "it kinda is, it's an adaption of Beauty and the Beast-" I know. What I mean is, I feel like I could upload this story onto The Vampire Diaries and nobody would question it. 
I'm a big twihard, and I tend to mention twilight (somehow) in every review I make. SJM's mating theology is great, I appreciate it, and I read a lot of it in the twilight fanfic universe.
However, SJM's was a little too…… feral. Weird? Odd? Borderline threatening? 
Seriously, I love this book so so so so so so so much more than any of the ToG books. Her protag was way more likeable, instead of the whole "oh look at me, I'm practically a warrior princess, I'm invincible– except when even the smallest of challenges come to me– then by all means, I'm a DID." Classic.
It isn't a book I would rave about, but if it were against ToG, oh helllll yeh, I'll read it over again even. I'm excited to read the next one, but I'll probably be more critical bc it's my book's arch enemy.
I read reviews saying we are supposed to ship Feyre with Rhys????????? I have no complaints, he gives some biiiiiiig Damon (Salvatore) vibes, but his relationship IN THIS INSTALMENT neither transcended anything but manipulative dominator. (So I'm low key shipping it). Honestly, I wouldn't be mad if she ended up with Tam. I'd be a little disappointed since their entire relationship was cliche, and too instalove, but hey, they're both strong enough characters for me to care and read further on.
SJM's writing on action scenes hasn't really improved, but I don't care too much bc I'm here for the romance. I would looooove to read a SJM new adult or purely adult romance novel. That would be divine. Why must she taint her writing with poor action and high fantasy (nothing against high fantasy– just SJM's version) themes?????????
Highlighted quotes from my kindle:
"'Please, Feyre.' She drew out the two syllables of my name-" 
This was
funny
to me, in my own little world. I'm sure it wasn't meant to be a laughing matter, sorry.
"I could smell my doom on his death as he said, 'Now.'" 
I'M SORRY
I WILL NEVER FORGET LAUGHING AT HOW AWFUL THIS QUOTE WAS,
CMON GUYS– CMON. IS ANYBODY ACTUALLY READING THIS AND STILL WORSHIPPING HER LIKE AN IDOL???????? If so, I'd like to talk with you. I'm interested in your mind.
"'They're under orders not to even touch you.'" 
DANG guys, I swear I have read this line at least 40 times in my twifics, ngl I'm not mad.
"'I might take an animal form, but I am civilised, Feyre.'" 
!!!Flashbacks to when Edward said although he isn't human, he's still a man!!!!!! This made me
giggle
. And also
cringe
. I'm not really into the whole "fear us, we are sexy and dangerous bc we are……… FAERIES!!! Who are shifters. But FAAAAERIES!!"
Idk man I'll always see them as Legolas', simple (barely badass no mater how much you deny it) pretty fae.
I'm sorry. I wish I could find it attractive in the midst of the """mysteriousness""". Like I do to vampires. Buuuuuuuut I don't.
"'I'm an immortal. I have nothing but time, Feyre.' He said my name with such… intimacy." 
LOVE IT. LOVE.
I actually can't remember is Tamlin or Rhys.
This will probably determine who I ship Feyre with. But then again
I shipped Dorian and Cel hella hard, and look how that turned out for me :((((((
"I hated the smell of these books-" 
YEP,
CAN'T RELATE
TO HER THAT WELL.
"'And we lied when we told those ancient mortals that we couldn't speak an untruth.'"
I adore the
cleverness
of this– this… whatever is. Scene? World? Theory within the world?
"Kissed it carefully– in a way that made heat begin pounding in my core, between my legs." 
Uhhhh
hot damn, I forgot SJM is dying to publish smut
but couldn't for some reason.
"'Yes– all of those female faeries around you were females for Tamlin to pick. It's an honour to be chosen, but it's his instincts that select her.'" 
I S2G I HAVE READ FANFICS JUST LIKE THIS.
"'She asked me not to be gentle with her, either," he snarled, his teeth bright in the moonlight. He brought his lips to my ear. 'I would have been gentle with you.'" 
UM SORRY
NOTP
I'M A LITTLE
TOO TURNED OFF.
"'I'm sending you home, Feyre.'"
OKAY A LITTLE BIT
OTP.
"'No.' he paces before the bed. 'Didn't you read between the lines today?'"
Okay I hate when SJM does anything in between the lines bc I'm pretty sure she's the only one that follows the mystery while for me
it's just a shitshow for writing.
"'Give me everything,' I breathed. He lunged, a beast freed from its tether." 
SORRY NOPE I
GIGGLED
V LOUDLY ON THE PLANE WHEN I READ THIS SOAP SCENE.
"'I love you,' he whispered, and kissed my brow. 'Thorns and all.'"
SWOOOON
.
"'Tell Her Majesty, you human filth.'" 
Can this be put on my tombstone??

"'And I'll remember precisely where my hands have been. But if anyone else touches you– let's say a certain High Lord who enjoys springtime– I'll know… 'And, Feyre.' He added, his voice a carressing murmur, 'I don't like my belongings tampered with.'" 
It's so wrong for me to find this attractive but I dooooooo hot hot hot dang.
"Rhysand chuckled. 'If you're that desperate for release, you should have asked me.'" 
Hello, Damon.
"'Because I'm tired and lonely, and you're the only person I can talk to without putting myself at risk.'"
SWOON #2
"'The answer to the riddle… is … love.'"
KILL ME NOW
. SHOOT ME..
So that's my thoughts right now. I thoroughly enjoyed reading it. Probably bc I was satirically laughing at it.
I'm glad I'm finally pleased by a SJM book!!! 
the other one